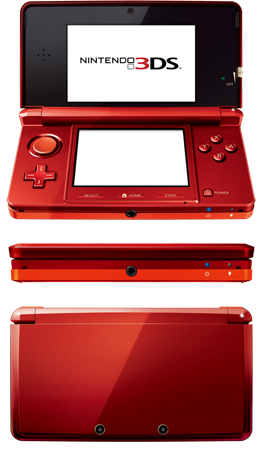 The widescreen 3D LCD is 3.53 inches corner to corner and runs in 800x240 resolution ("400 pixels are allocated for each eye to enable 3D viewing").
The touch screen is 3.02 inches and 320x240 resolution.
The one inner and two outer cameras are all 640x480 in 0.3 megapixel resolution.
The 3DS has 802.11 Wi-Fi, ala the DS, and supports WPA/WPA2 security.
Controls wise there's the touch-screen, embedded microphone, A/B/X/Y face buttons, d-pad, L/R buttons, Start and Select buttons, "slide pad" (analogue nubbin for 360-degree input), three cameras, motion sensor and gyro sensor.
Then of course there's the 3D depth slider, which allows you to adjust the 3D effect.
Ports on the console include the 3DS game card slot, which also takes DS games, an SD card slot, an AC adapter connector, and a stereo headphone check. The machine has stereo speakers and a lithium ion battery. Will also come in Black and Blue.
Upcoming games:
Paper Mario
Mario Kart
Metal Gear
Final Fantasy
Street Fighter
Kingdom Hearts Re:coded
Ninja Gaiden
Starfox
50+ Pics!
Spoiler:
Source: GBA Temp