Rei's boredom guide.....
This is my guide to identify the real thing from a fake/copy Anime Bootleg DVDs out there.
1 HOUR SPECIAL
Let's use Yuugiou (Yu-Gi-Oh) as an example. During the Yuugiou Duel Monsters episodes 160 & 161 were aired together as a 1 hour special along with episodes 167 & 168 of season 4. In the Yuugiou 5D's saga the two last episodes, episodes 153 & 154 were aired as a 1 hour special. When the Official DVD was released in Japan ANY 1 hour special episodes were broken down into an individual episode approx 30min each. However since Bootleg Anime DVD is just a TV Rip. The Bootleg DVD will have the episodes as a 1 hour special since it is just a direct recording off the television airing. I don't know of any 1 hour speicals that were still approx 1 hour episode on the Official Japanese DVD up to my knowledge
3 SET VS 3 DVD BOXES SET
Look closely at the box, IF its in a box set like the picture its probably a FAKE! Real Japanese Anime DVD's don't have it in a set it will be in 3 DVD cases. However some may be in a 3 DVD set in cases as well. Check very carefully.
OFFICIAL VS BOOTLEG ANIME
If you know there are such DVDs out there that are Bootleg DVD's and even anime bootlegs. This topic will discuss the differences from Official Japanese DVD releases and Chinese/ Malaysia un-official DVD releases. This is mainly set for figuring out if what your buying if a REAL Japanese Anime DVD or a TV-Rip of the show. Bootleg DVDs are not even OFFICIAL DVD releases. You should also see water marks showing that the Bootleg is just a TV Rip not an official Japanese DVD release copy.
Official Japanese " Strawberry Panic " R2 DVD ....I think its R2 DVD.......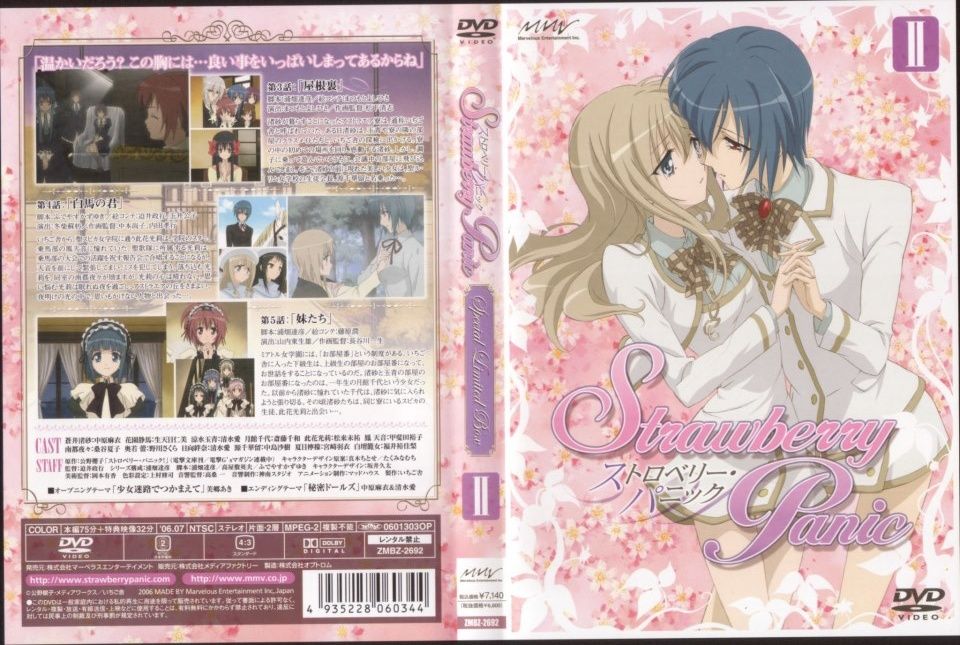 As you can see the Japanese R2DVD Strawberry Panic does NOT have any subtitles in ANY language on it anywhere on them. There are no subtitles on Japanese R2DVDs
MENU/ SUBTITLES: ENGLISH/CHINESE ON/OFF
To find out what your buying is real or not check the back of the case, look for subtitles IF the subtitles are in English and Chinese than it is a FAKE. Anime bootleg DVD's will be in the Japanese Audio only and have both English and Chinese subtitles on all episodes. Real Japanese DVD releases do not have subtitles on the disc. I do not have any Official Japanese DVD's to show any differences. So I guess you'll have to just go with that...
Both of these images are from Bootleg Yuugiou DVDs.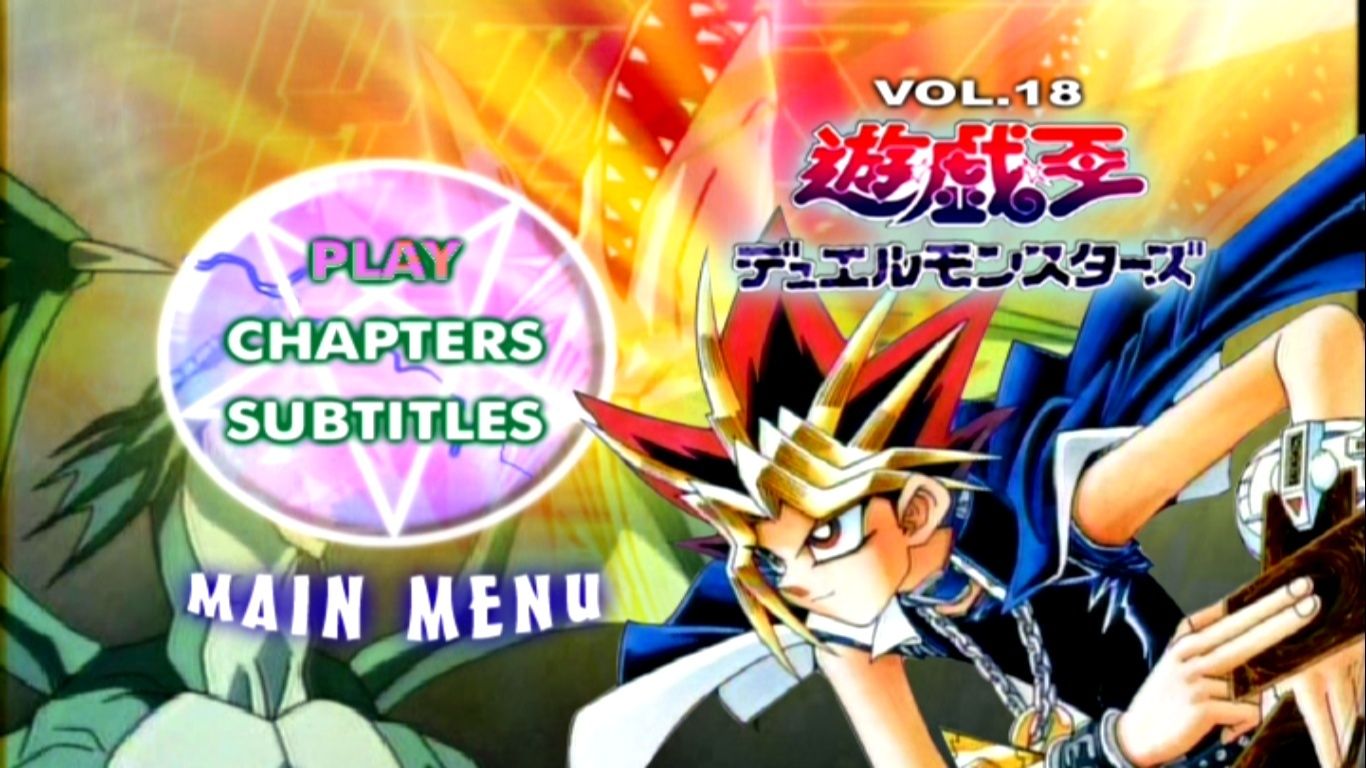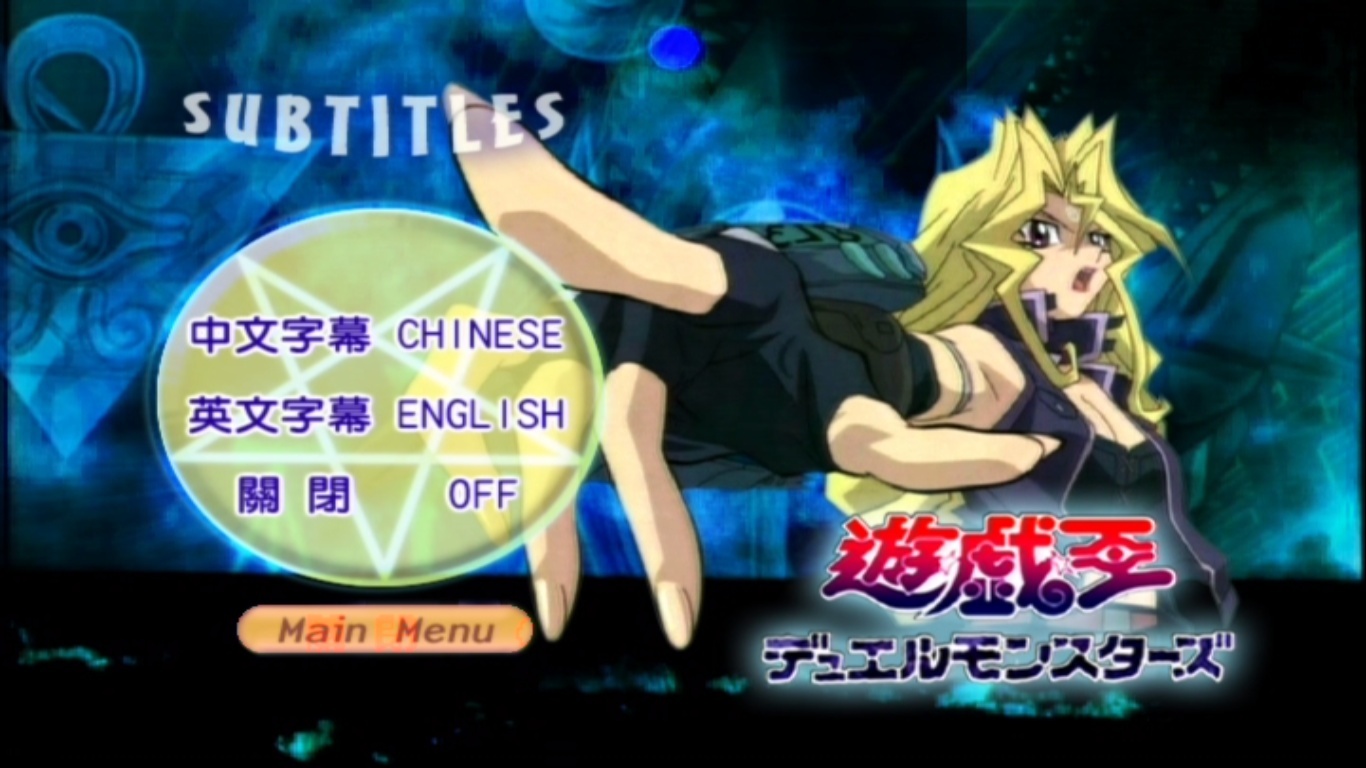 Images from Official Yuugiou DVD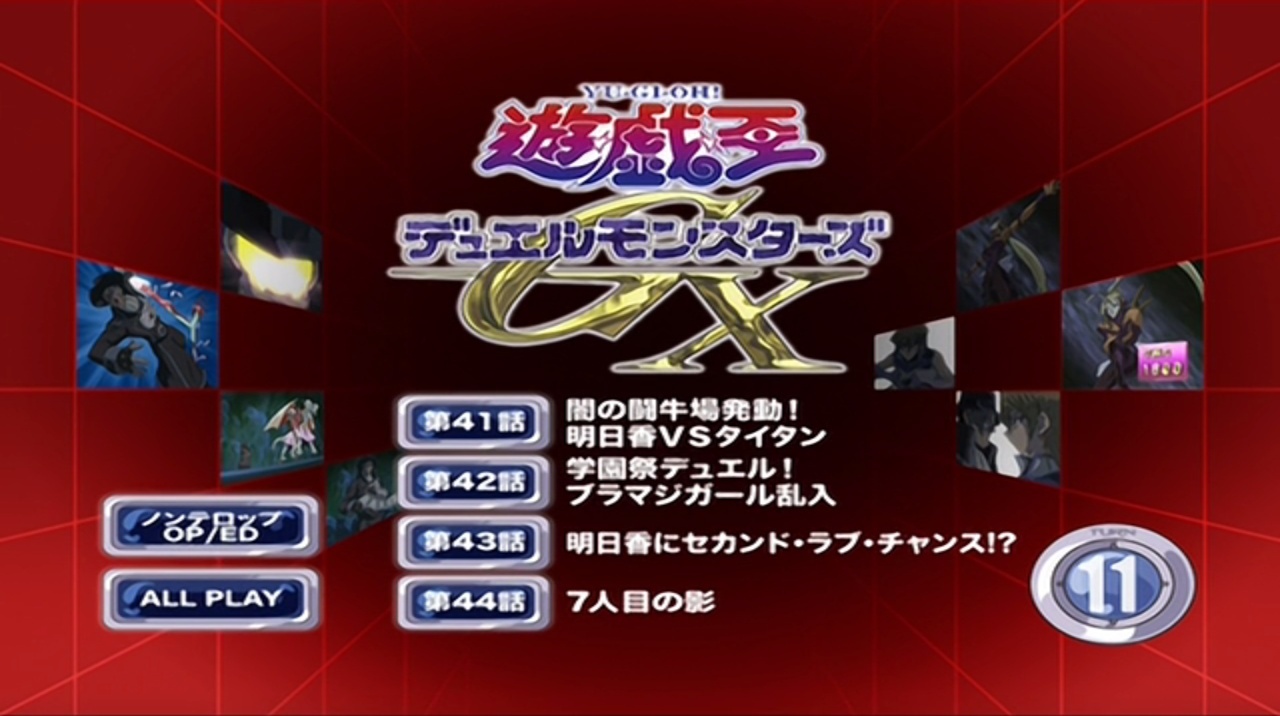 As you can see Official Japanese Yuugiou DVD's
do not
have subtitles. Only the Bootleg versions have Chinese/English subtitles.
PRICE(S): $
Check the pricing on the DVD('s). If the DVD price is really cheap than it's probably a fake for example when I was in my teen years 15-17 I saw Yuugiou Duel Monsters episodes 1-32 for $59.99 USD. For 32 episodes on 3 DVD's you have got to be kidding me, the price seems too good to pass off, but that's a bootleg, real Japanese DVD boxes do not have 32 episodes on 3 DVD's the episodes would be up to 12 episodes per box set. The Official Japanese DVD boxes have 4 episodes per disc and each box set contains 3 DVDs, do the math 4 episodes x 3 DVDs = 12 episodes per box. Real Japanese prices go to logically $200+ USD which is of course expensive for 12 episodes (any Anime).
NOTE: Short anime TV Series like up to 12-13 episodes for Official Japanese releases will probably be 2 episodes per DVD.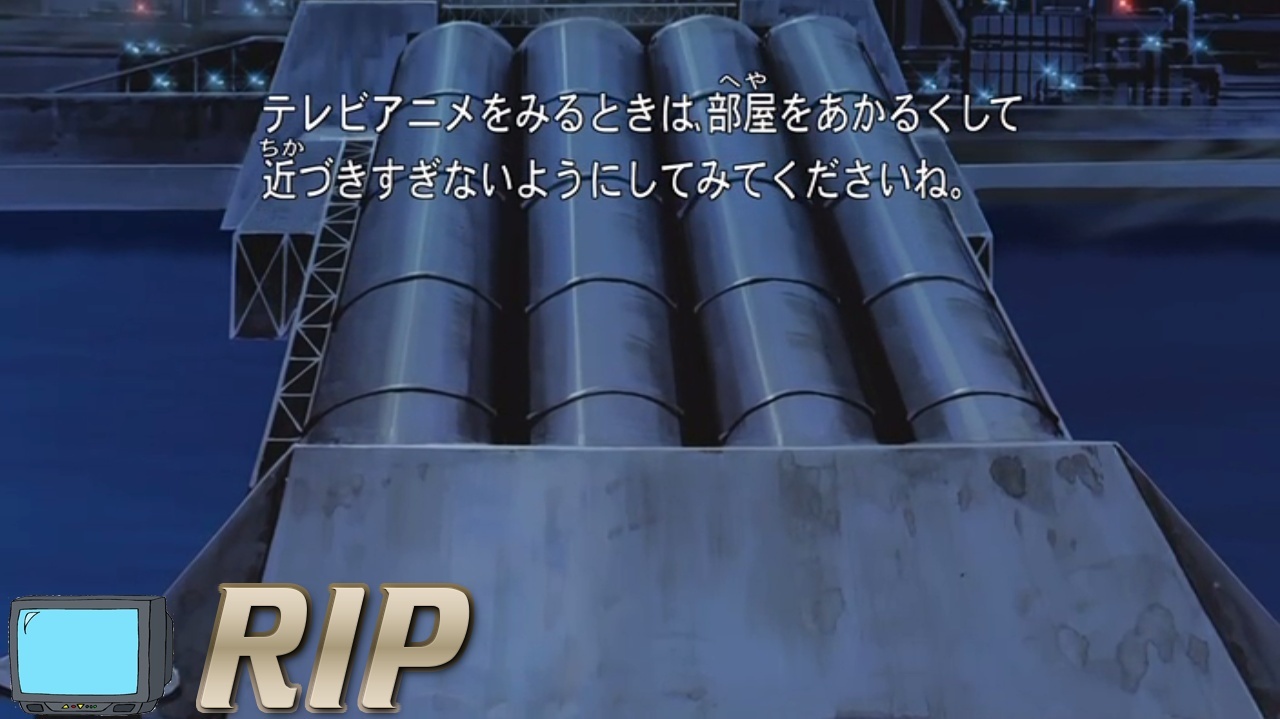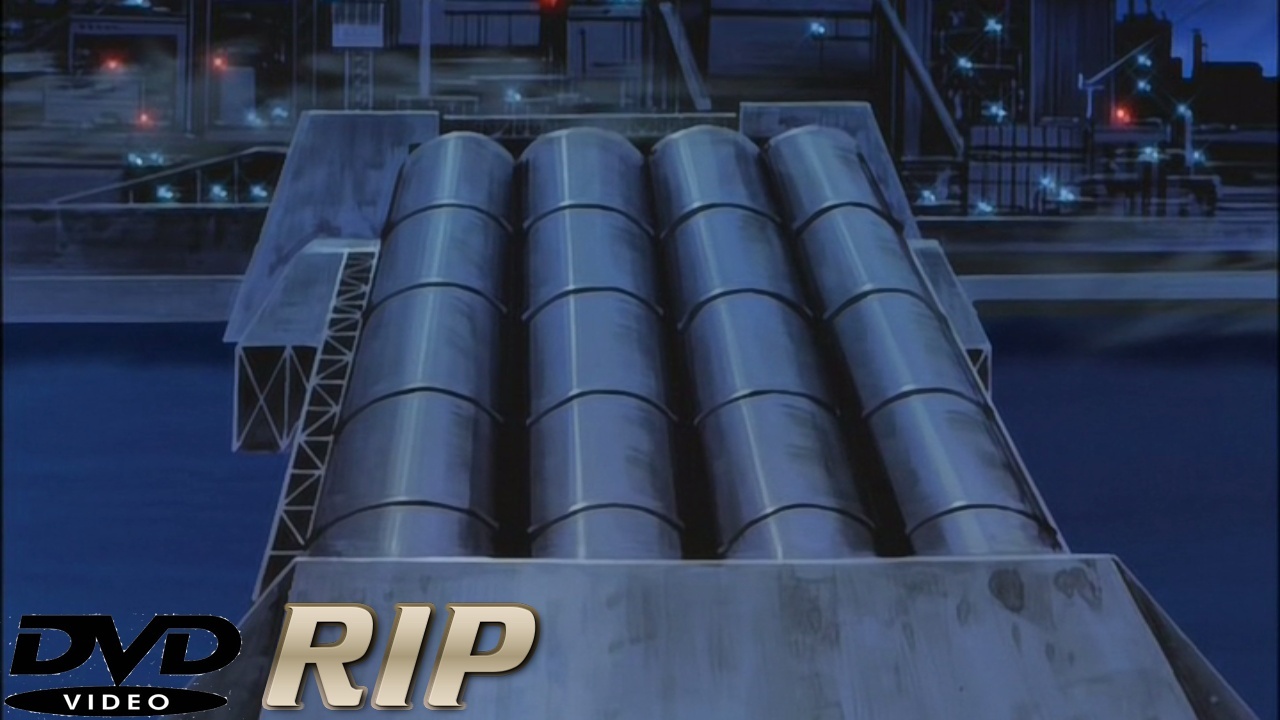 JAPANESE WARNING TEXT
IF you can play the disc check the episode(s) after the Opening and see if there is a Japanese text which translates to " Please watch in a well bright room. Turn up the lights and stay away from the TV or Monitor…. e.t.c " If you see this, this is a TV Rip and bootlegs will have them (may be not all). I'll post a picture to show you what I'm referring to. Official Japanese Anime DVD's don't have that line of text on the video. If you purchase a DVD and can't tell and it has it, its recorded straight from the TV airing and burn directly onto the DVD.
QUALITY DIFFERENCES
If you were to compare TV Rips to Official DVD releases straight from Japan, you should be able to see a giant differences between the two. Bootleg quality is okay but not the greatest not to mention it is just a direct TV Rip from actual airing, BD/DVD quality is much better obviously
Use this as a comparison, Bootleg on top. DVD release bottom.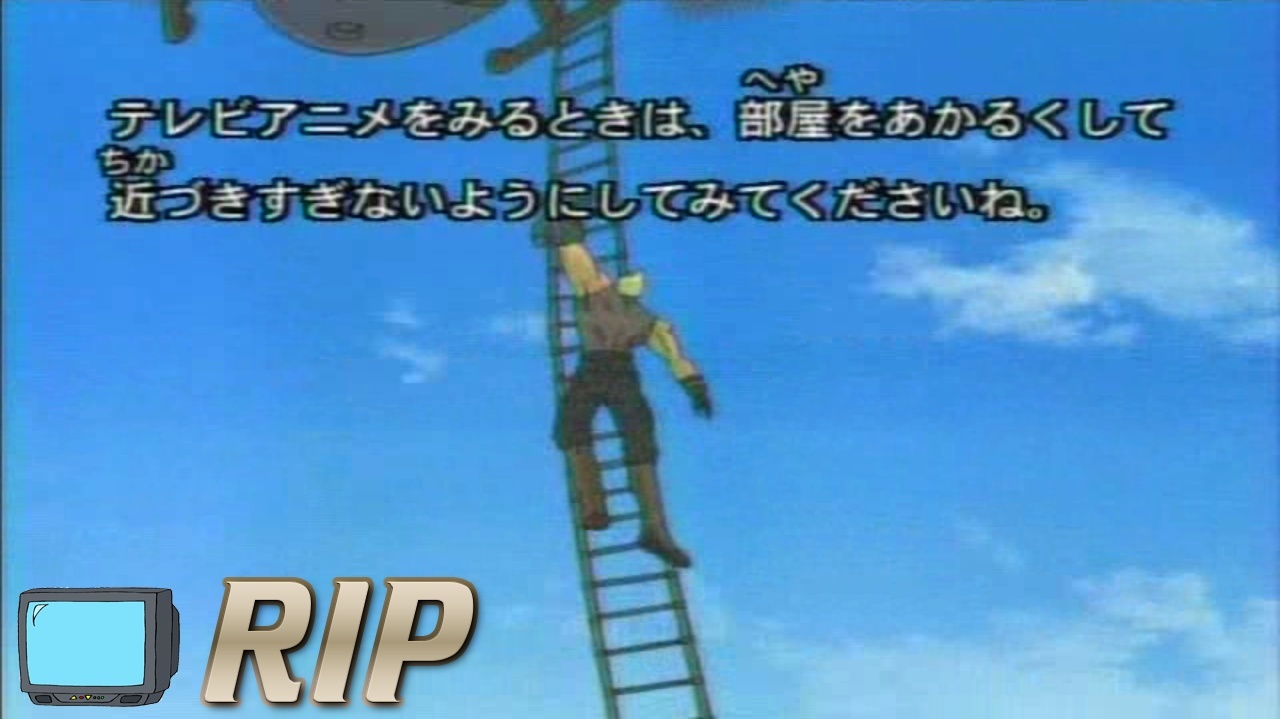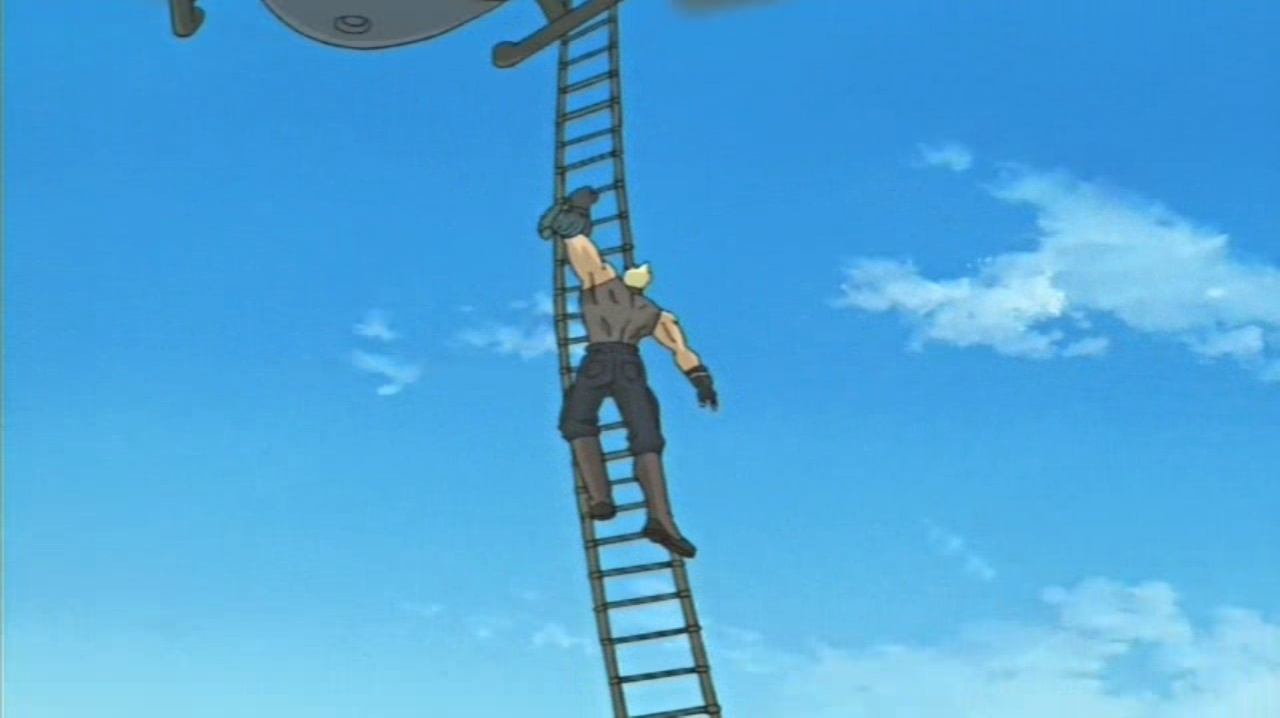 Also note Official Japanese DVD Rips do not have the Warning text on them as you can see.
WATERMARKS
By now current anime ( I don't know IF all current anime's have it by now ) but anime's should have a water mark located at the upper right hand corner for example something like this!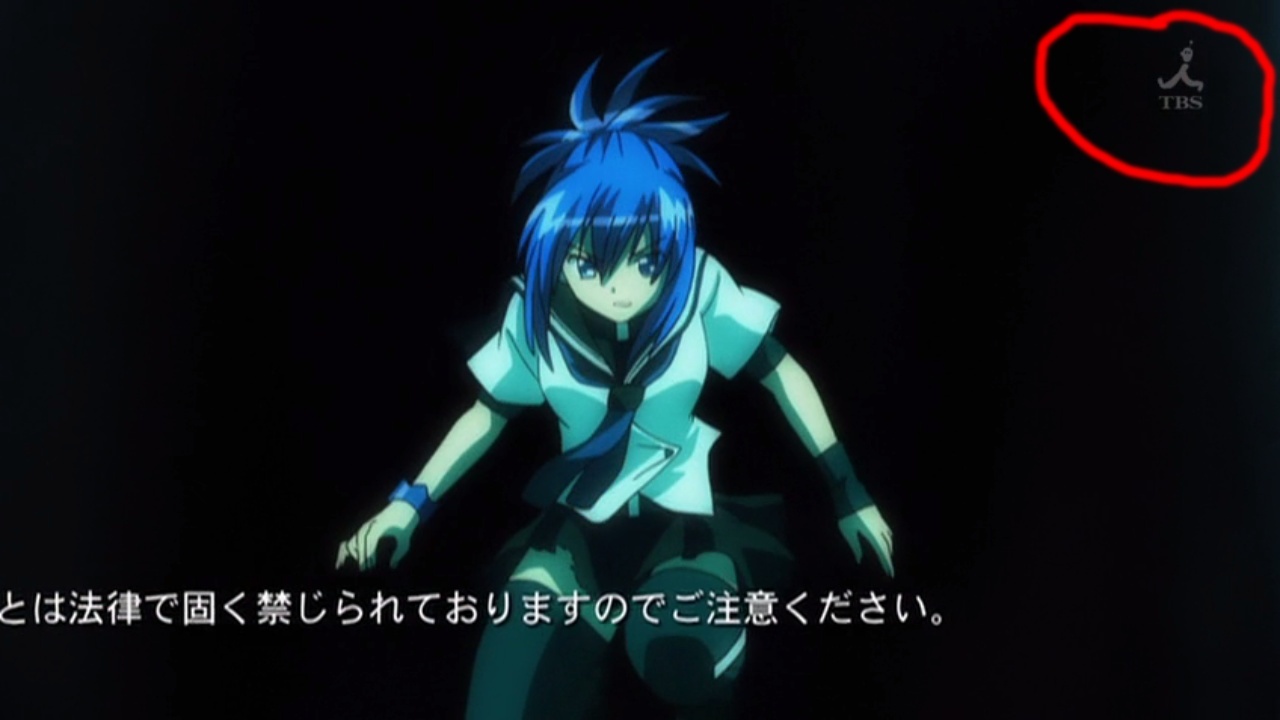 TV Rip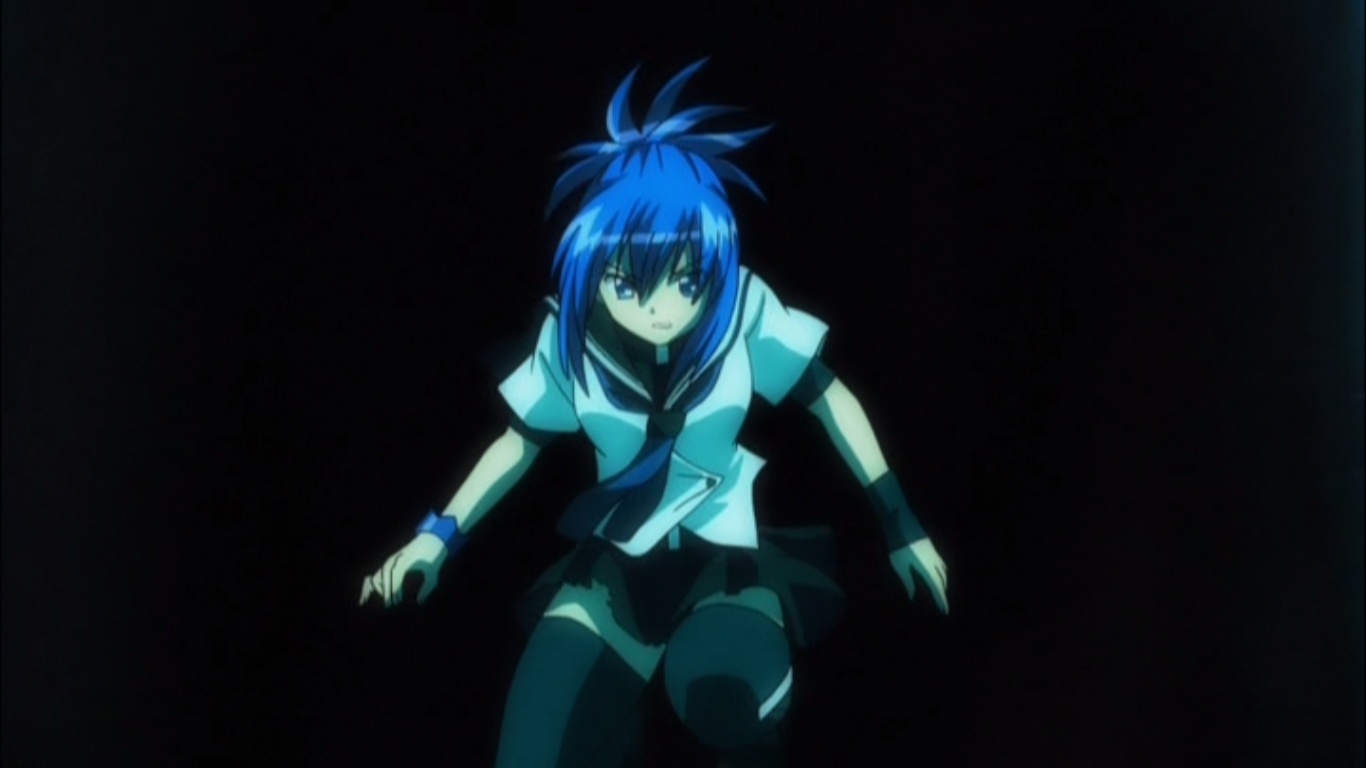 DVD Rip
You should notice the TBS logo isnt there on the DVD release (reguardless of region)
If you purchased an anime DVD and it has some sort of watermark, then what you purchased is a Bootleg DVD not an official DVD. Because it's only from the tv airing which is a TV Rip.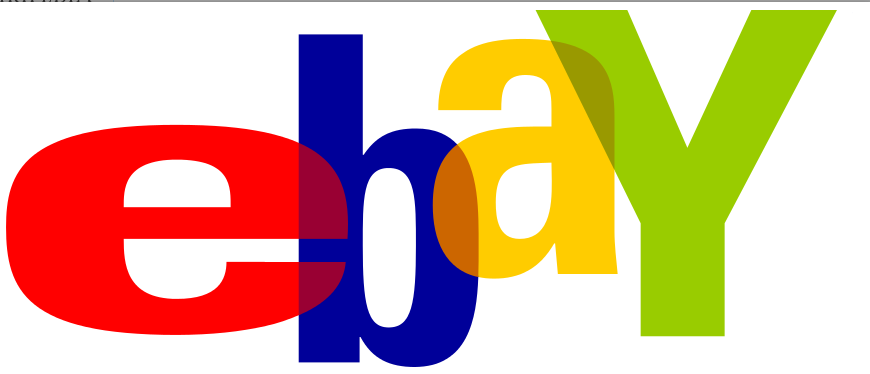 eBAY
If your on eBay most sellers will probably be selling bootleg Anime DVD's. And have a note saying that " This isn't a bootleg we sell authentic merchandise " and all those lies they say probably just to make you purchase it. If you want the authentic product go to cdjapan.co.jp and buy it from there, they should have all the real stuff you want on their website.
Online Descriptions
Look at the images down below and read what is in the description from the image and I'll point out what you should look for.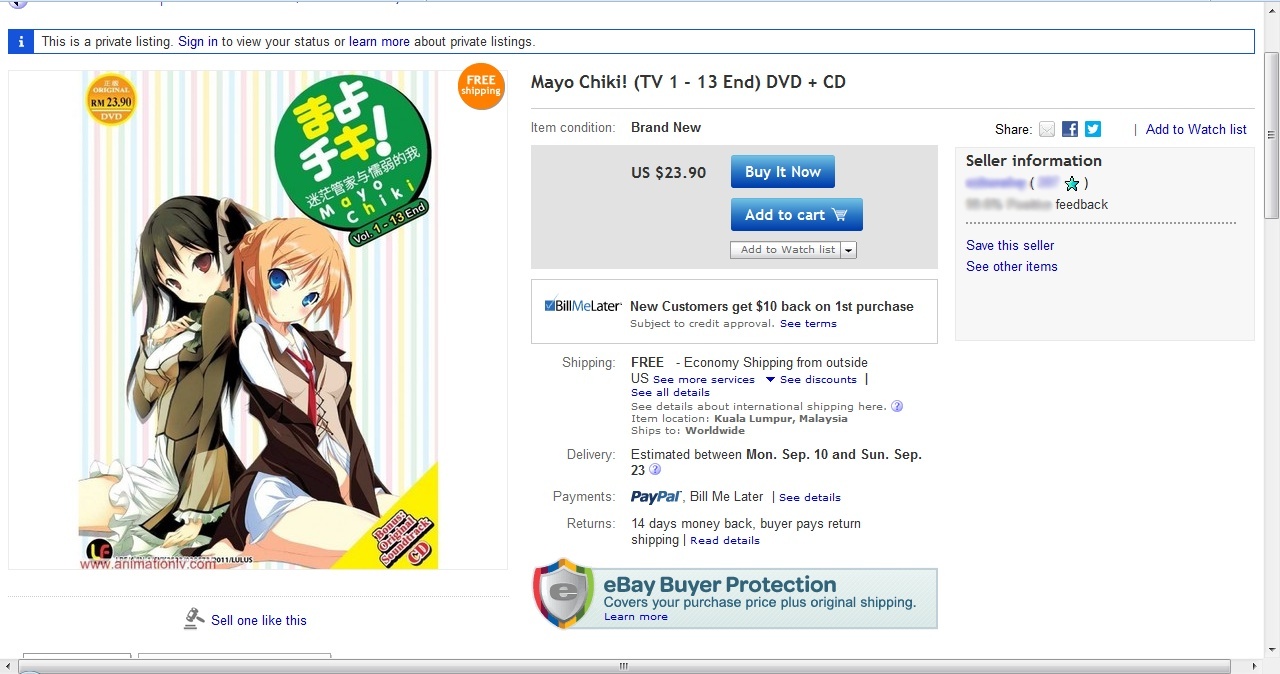 13 Episodes on 1 DVD.... FAKE!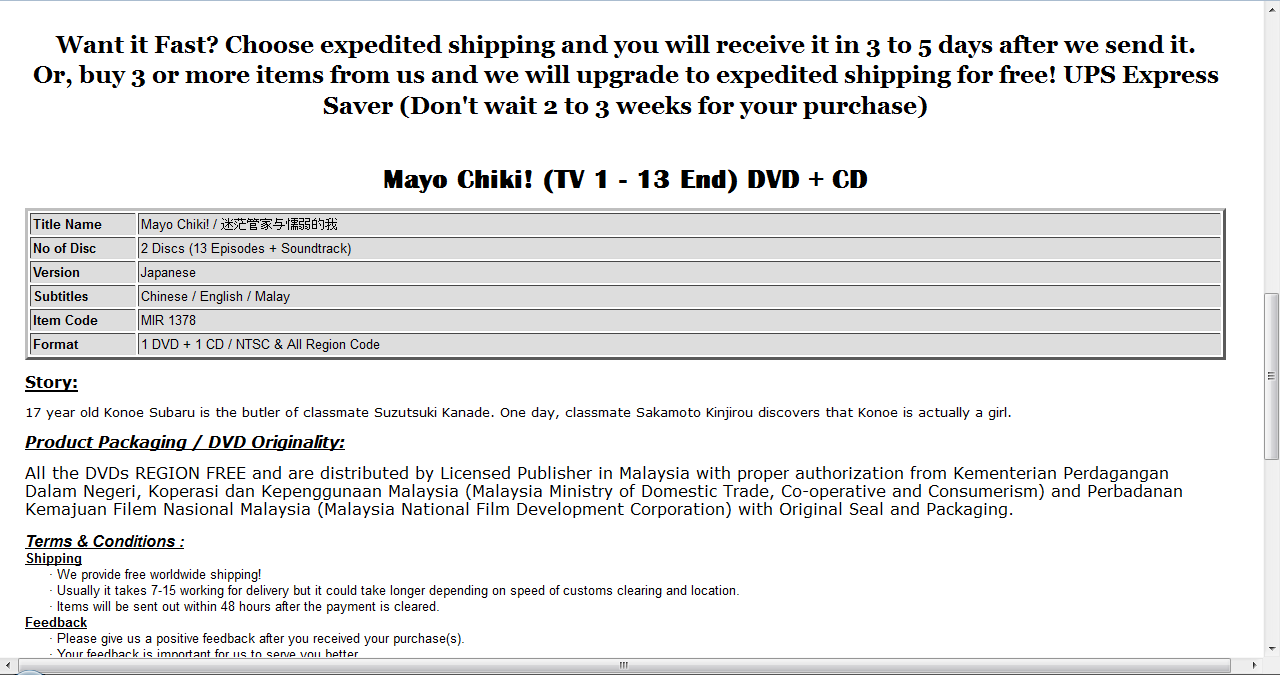 Do you see where it says....
"
Subtitles Chinese/ English/ Malay
" <-- Your first hint
" 1 DVD + 1 CD / NTSC &
All Region Code
" <-- All Region Code is your second hint
" All The DVDs
REGION FREE
" <-- Third hint
" Licensed Publisher in Malaysia with proper authorization " <-- In Malaysia may be, they aren't the ones who created the anime nor aired it so that should be your 4th hint not to mention its the Bootleggers anyway.
REGION ZERO "0"/ ALL REGION
All bootleg DVD's do not carry a region on them. Bootleg DVD's are Region 0 meaning ANY DVD player can play them regardless of what country you are from or what region code the DVD player is. Your DVD player can play them no matter that due to no region coding on the disc. It doesn't even matter, in other words the DVD is Region Free. Can be played anywhere. The disc is Region Free not your DVD Player (high possibility). Region 0/ All Region, same thing really.
Bootleg Anime DVD Episodes
11 episodes on 1 DVD.... Your kidding right?
01: Chapter 11
02: Chapter 12
03: Chapter 13
04: Chapter 14
05: Chapter 15
06: Chapter 16
07: Chapter 17
08: Chapter 18
09: Chapter 19
10: Chapter 20
11: Chapter 21
I hope my guide has helped you identify whats real and whats just a cheap copy. Good luck out there guys!
" You might be able to fool others, fooling me isn't that easy "
Do you have any questions at all you would like me to answer?
Please use this link to find out about Region Codes if your confused on what I am even talking about.
http://www.amazon.co.uk/gp/help/customer/display.html?nodeId=502554
IF the link gets deleted here are screen shots of it at that time as of
September 6, 2012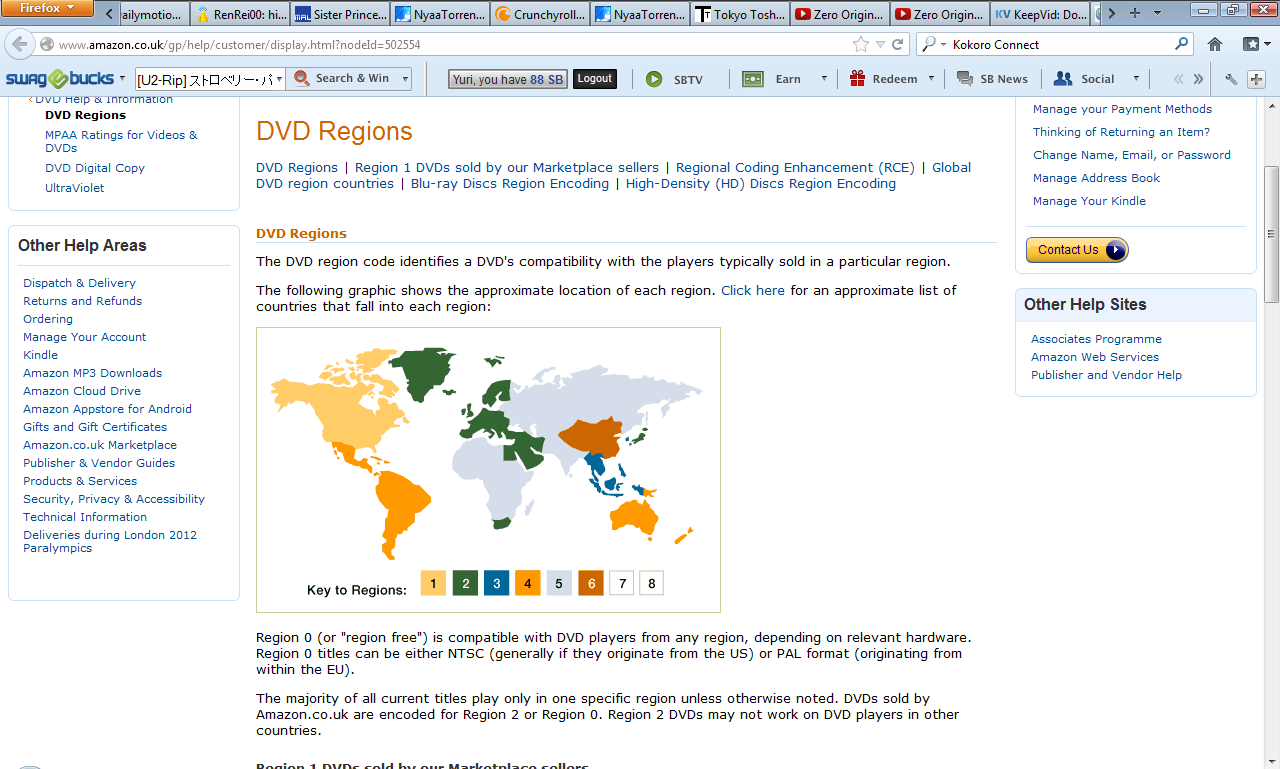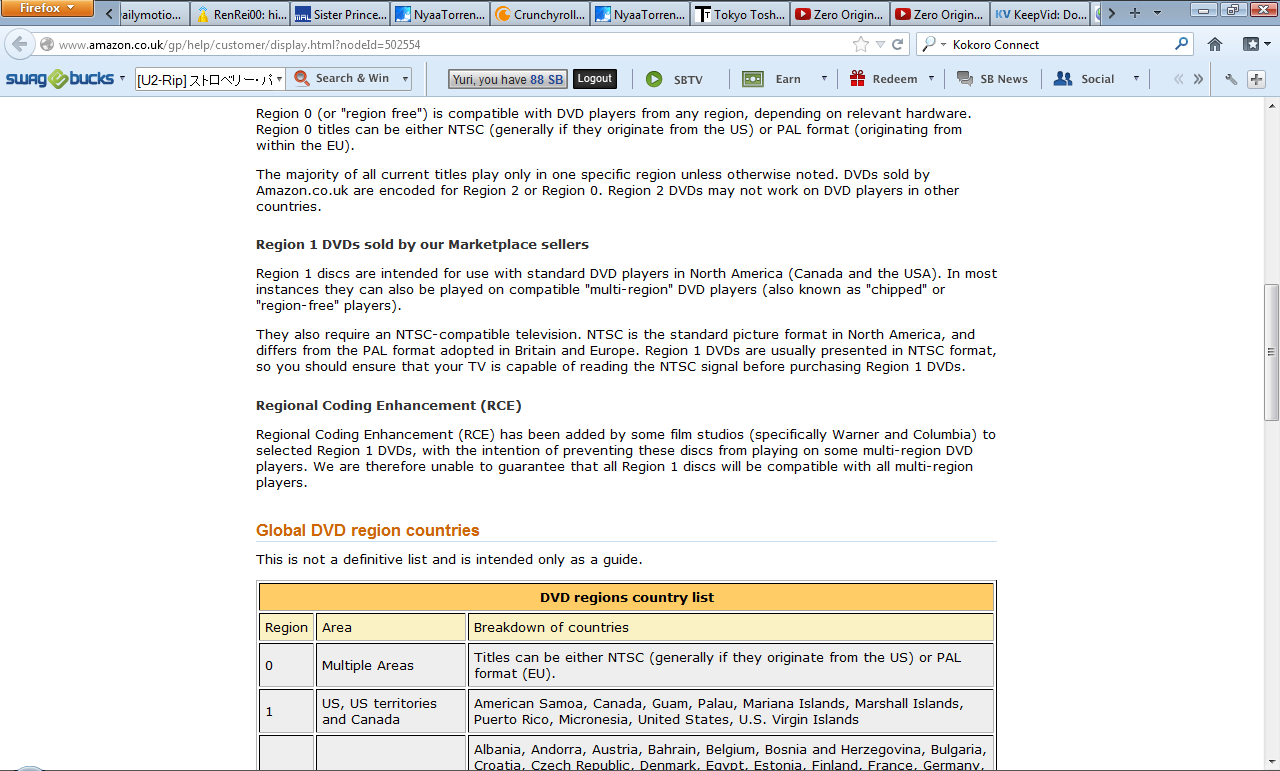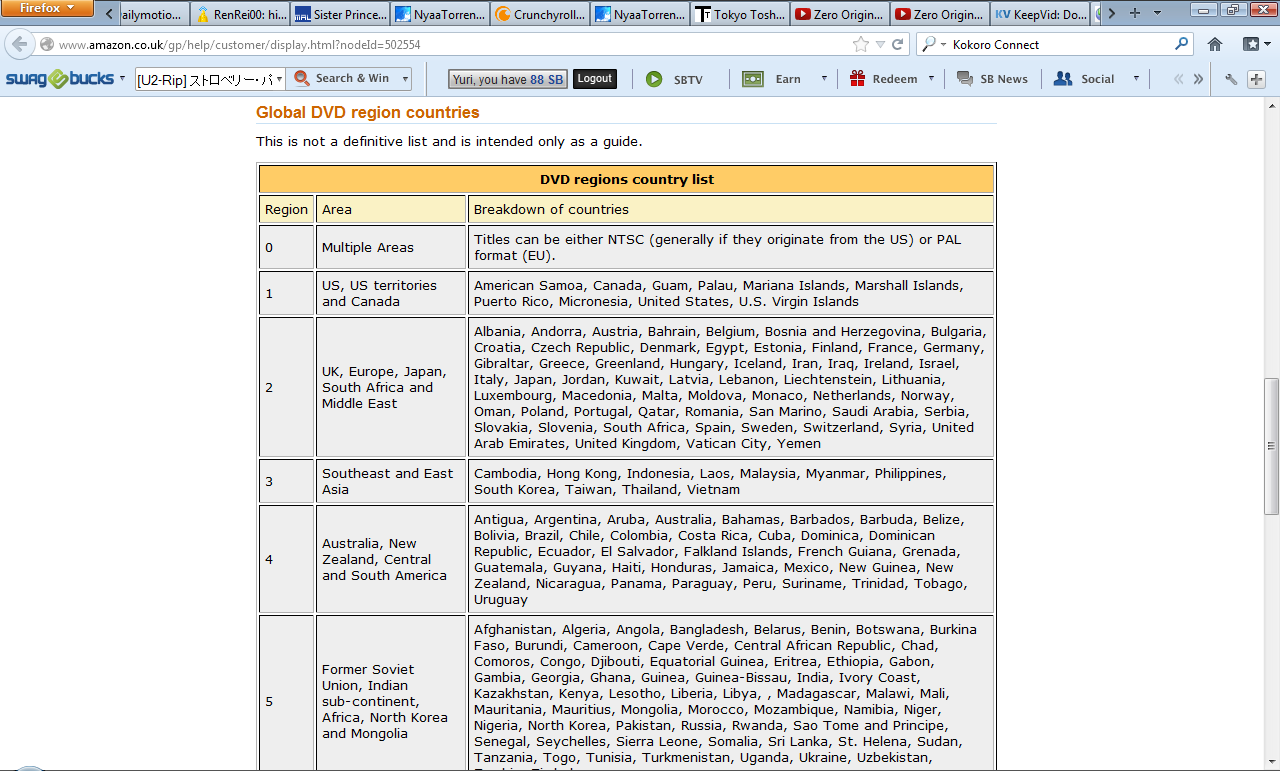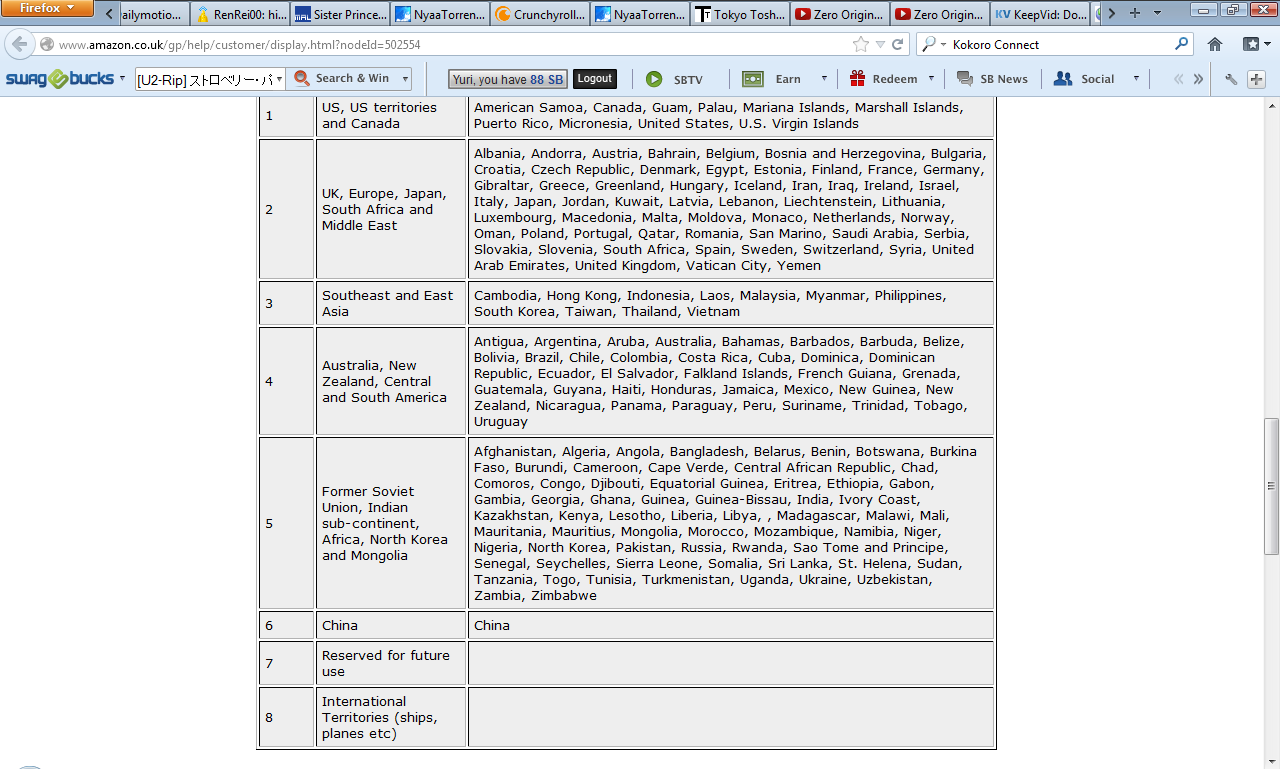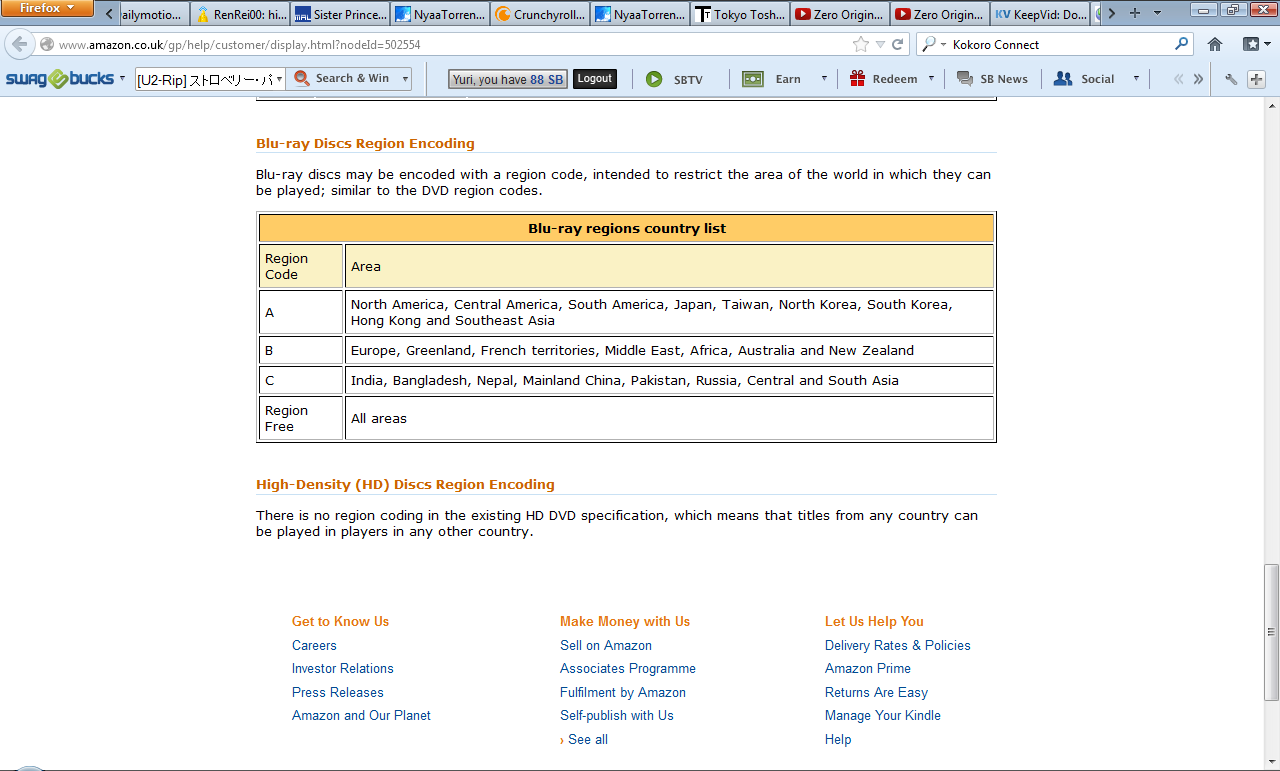 So remember to look for…
1. Region Code
2. Subtitles (Chinese/English/(optional Malay) Off/On) <If Any>
3. Number of Episodes per disk/ box
4. Upper left hand corner look for a time (telling the time) <Possibly>
5. Pricing (per disc/box set) (IF it makes any sense)
6. DVD5 or DVD9
http://forum.dvdtalk.com/archive/t-307922.html
Any questions?